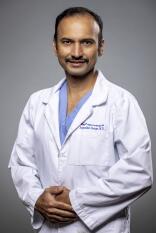 Dr. George earned his medical degree from the Saba School of Medicine in the Netherlands Antilles. He completed his Internship and Residency in Internal Medicine at the University of Oklahoma. Following residency, Dr. George completed his Fellowship training in Cardiology at Saint Joseph Mercy Oakland Hospital in Pontiac, Michigan, where he gained experience in cardiac catheterization and witnessed the reversal of cardiogenic shock. Watching patients with advanced cardiovascular disease live to embrace their families again increased his passion for Interventional Cardiology. He went on to complete an Interventional Cardiology Fellowship at St. John Medical Center in Detroit.
Dr. George is Board Certified in Internal Medicine, Cardiovascular Disease, Interventional Cardiology, Echocardiogram, and Nuclear Medicine. He is a Fellow of the American College of Cardiology.
From an early age, Dr. George was fascinated with the wonders of science. Seeing his mother through the trauma and recovery from a motor vehicle accident – and watching with amazement the care that she received from multiple doctors and nurses – became the catalyst for his pursuit of medicine. He decided to move to Fayetteville after meeting Dr. Paracha, who became a great mentor to him in his fight against limb ischemia. He is happy to have the opportunity to provide specialty cardiovascular care for the people in this area.