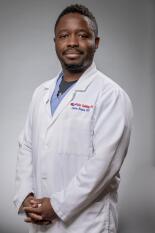 A New Jersey native, Dr. Bennin earned his medical degree from the University of Medicine & Dentistry of New Jersey. He completed his Internship and Residency in Internal Medicine at Thomas Jefferson University Hospital in Philadelphia.
Dr. Bennin joined Valley Cardiology after completing his Fellowship in Cardiovascular Disease at the University of Florida College of Medicine in Jacksonville. With a collaborative approach, he provides comprehensive care for patients at the Cardiology Clinic. He is Board Certified in Cardiology and Internal Medicine.
Dr. Bennin has also served as Clinical Instructor at Jefferson Medical College and a Hospitalist at the Jefferson Hospital for Neuroscience. He has been involved in extensive research and has co-authored a number of publications and presentations on specialized topics in cardiology. Dr. Bennin is a member of the American College of Cardiology (ACC), the American College of Physicians (ACP) and the American Medical Association (AMA).