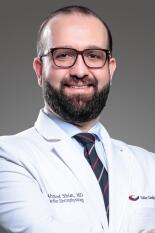 Dr. Shim graduated with honors, earning his medical degree from the Medical University of Lodz, Poland. After completing his Internal Medicine Residency, he pursued a Fellowship in Cardiovascular Disease at SUNY Downstate University Hospital in Brooklyn, NY. He went on to complete a Clinical Cardiac Electrophysiology Fellowship at the University of Illinois at Chicago, focusing on complex ablations including atrial fibrillation, ventricular tachycardia and supraventricular tachycardia. This Fellowship also included the management and implantation of various watchman devices, defibrillators, and pacemakers including Micra devices, the world's smallest leadless pacemakers.
Dr. Shim is Board Certified in Internal Medicine and Cardiovascular Disease. Throughout his medical school and training, he co-authored multiple cardiovascular research articles and abstracts that were published by the European Society of Cardiology and Imaging.
In his spare time, Dr. Shim enjoys cycling and hiking. He is also committed to supporting local organizations focused on improving the health and wellbeing of our community.