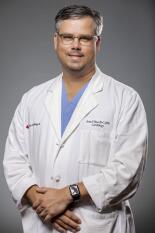 Brian Rose, PA-C, MPH is a valuable member of Valley Cardiology's cardiac and vascular care teams. His is responsible for inpatient rounding and hospital consultations, as well as outpatient care for a wide variety of cardiovascular conditions, including coronary artery disease, congestive heart failure, heart valve disease, vascular disease, and electrophysiology.
Brian earned his Master of Medical Science in Physician Assistant Studies from Methodist University in Fayetteville, North Carolina. He also received a Master of Public Health in Epidemiology from The Brody School of Medicine at East Carolina University in Greenville, North Carolina. During his physician assistant training, he gained experience in all aspects of medical care through clinical rotations at hospitals and medical practices throughout the region. He completed rotations in vascular surgery and advanced wound care at Fort Bragg's Womack Army Medical Center.
Brian is a member of both the American and North Carolina Academy of Physician Assistants, and he has authored/co-authored a number of presentations and publications for professional journals. During his academic career – which includes a bachelor's degree in Biological Sciences from East Carolina University – Brian earned several honors and awards including membership in the National Society of Collegiate Scholars and Golden Key National Honor Society.