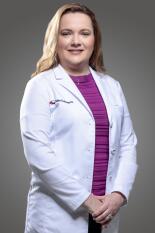 Stephanie Dove is a highly regarded member of our Cardiac Care team. A board-certified Family Nurse Practitioner, Stephanie earned her Doctor of Nursing Practice (DNP) degree – the highest educational level for a clinical nurse practitioner – from Frontier Nursing University in Hyden, Kentucky. She also has a Master's in Nursing from Frontier University and a Bachelor of Science in Biology and Nursing from the University of North Carolina at Chapel Hill.
Stephanie's extensive experience – as a nurse and nurse practitioner – includes caring for patients in the intensive units at Cape Fear Valley Medical Center, as well as working in many areas that include post anesthesia care, cardiovascular care, women's health/OBGYN and internal medicine. She grew up in the Fayetteville area and is pleased to have the opportunity to continue providing exceptional care for patients at Valley Cardiology from Cumberland and surrounding counties. Stephanie's patients benefit from her proactive approach to good health and quality of life.
Dedicated to her profession, Stephanie is a member of the American Association of Nurse Practitioners and the North Carolina Nurses Association. In support of her community, she is an active volunteer with efforts focused on Falcon Children's Home and Family Services and community outreach through her church. In her spare time, Stephanie enjoys watching her son race dirt cars and spending time with family and friends at White Lake.