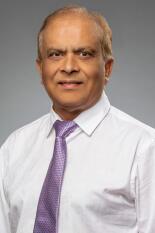 After earning his medical degree and completing his internship at Dow University of Health Sciences in Pakistan, Dr. Paracha moved to the U.S. and completed his Residency in Internal Medicine at Michigan State University. Following his residency, Dr. Paracha completed Fellowship training in Critical Care Medicine at Mt. Sinai Medical Center in New York and Wayne State University in Detroit.
Dr. Paracha remained at Wayne State's Detroit Medical Center to practice critical care medicine and serve as an Assistant Professor. While training pulmonary and critical care specialists, he developed a keen interest in Critical Care Cardiology. He went on to complete Fellowship training in General and Interventional Cardiology and Vascular Medicine at Wayne State. To continue his career, Dr. Paracha chose the Fayetteville area, where he felt there was a need for specialized vascular and cardiac services.
Since 2002, Dr. Paracha has been providing comprehensive cardiology and vascular services for patients in Fayetteville and surrounding areas. Over the past decade – since he developed Valley Cardiology's Vascular Clinic – Dr. Paracha has provided much-needed care to promote wound healing and prevent limb loss in patients with Critical Limb Ischemia (CLI). The Vascular Clinic now has three locations (Fayetteville, Lumberton, and Lillington) that offer the most advanced, state-of-the-art care for patients in the region who suffer from Peripheral Arterial Disease (PAD), venous disease and lymphedema.
Dr. Paracha has special interests in interventional cardiology and vascular medicine, and he is Board Certified in Cardiovascular Disease, Interventional Cardiology, Vascular Medicine and Venous & Lymphatic Medicine. He is a Fellow of the American College of Cardiology, the Society for Cardiovascular Angiography and Interventions, and the Society for Vascular Medicine.